Gallery News
Blake Rayne: Blaffer Art Museum

Blake Rayne, Untitled, 2013, acrylic & walnut shell on canvas, 24 x 18 inches

Blake Rayne: Cabin of the Accused
22 October 2016 - 18 March 2017

Blaffer Art Museum

4173 Elgin Street
Houston, TX 77004

1301PE is pleased to announce the opening of Blake Rayne: Cabin of the Accused, at Blaffer Art Museum, the first midcareer survey of the New-York-based artist. The exhibition features major works completed from 2003 to the present which showcase the breadth of his work in various media including in painting, sculpture, printmaking, and installation.
Angela Bulloch & Rirkrit Tiravanija, Okayama Art Summit 2016, Japan

Rirkrit Tiravanija's 'Untitled 2016 (this is A, this is A, this is both A and not-A, this is neither
A nor not-A)' 2016. Japan Times, Cameron Allan McKean.
Okayama Art Summit 2016 - Development

Okayama, Japan
October 9 – November 27, 2016
Okayama Art Summit 2016 is the first edition of a new triennial contemporary art exhibition to be held in Okayama, Japan. Thirty-one artists from all over the world have been invited to participate, including Cameron Rowland, Rirkrit Tiravanija, Rachel Rose, Angela Bulloch, Dominique Gonzalez-Foerster, Katja Novitskova, Trisha Baga, Joan Jonas, Pierre Huyghe, and Peter Fischli and David Weiss. Some of the venues designated for the summit are Okayama Castle, the Hayashibara Museum of Art, the former Fukuoka Soy Sauce Factory, the Okayama Prefectural Museum of Art, and the Korakukan Tenjin School.
"All the artists involved in the exhibition play with structures—ideological, formal and political. They do this in very specific ways. Each artist layers their work upon what they encounter. They offer various levels of distance to the given structure. And leave us with different strata for encounter, examination, and experience." - Liam Gillick, Artistic Director
Angela Bulloch, Simon Lee Gallery, Hong Kong

Angela Bulloch, installation view, Simon Lee Gallery, Hong Kong
Angela Bulloch: One way conversation...
Simon Lee Gallery, Hong Kong
14 October - 19 November 2016
One way conversation… is a continuation of Bulloch's latest body of work presented last year in Considering Dynamics and The Forms of Chaos at the Sharjah Art Museum, UAE and L'ALMANACH 16 at the Le Consortium Dijon, France. Formed in steel and MDF, the stacked columns of polyhedra have a stylized geometry and manufactured surface sheen that alludes to minimalism and technology. Often apparent in Bulloch's installations where technology mediates interaction with the work, is her interest in cybernetics, fundamental themes of biological, social and technological systems, and the integration of the human subject with technology.
SUPERFLEX receives the Aga Khan Award for Architecture for Superkilen

Superkilen park in Copenhagen
Together with co-creators BIG and Topotek1, SUPERFLEX is awarded the prestigious Aga Khan Award for Architecture for the artistic contribution to the Copenhagen urban space Superkilen.

The Aga Khan Award for Architecture is given every three years to projects that set new standards of excellence in architecture, planning practices, historic preservation and landscape architecture. Aga Khan writes of Superkilen:

'Superkilen, a new urban park in one of Copenhagen's most diverse and socially challenged neighbourhoods, emphatically rejects this view with a powerful mixture of humour, history and hubris. (…) It fuses architecture, landscape and art in a truly inter-disciplinary manner, providing new opportunities for shared public engagement.'

Superkilen (2013) is an eight hundred metres long urban park project wedging through one of the most ethnically diverse and socially challenged neighborhoods in Denmark. It is imagined as a giant exhibition of urban best practice with furniture and everyday objects nominated from the future users. Ranging from exercise gear from Muscle Beach in LA, to a playground octopus from Japan and palm trees from China, Superkilen is a collection of global found objects that derive from 60 different nationalities representing the local inhabitants.
Philippe Parreno: Tate Modern's Turbine Hall Commission


Philippe Parreno today unveiled his new installation, Anywhen, for the Tate Modern's annual 
site-specific Turbine Hall commissions, sponsored by Hyundai. Courtesy of Tate Photography
Philippe Parreno: Anywhen
Hyundai Commission
Tate Modern, Turbine Hall
4 October 2016 - 2 April 2017
1301PE is pleased to announce the opening of Philipe Parreno's exhibition, Anywhen, at Tate Modern's Turbine Hall. Please visit the Tate Modern website here for more information.
LA Times: Wrapped in stretchy fabric, orchestral musicians become performance art at Green Umbrella festival

Venice artist Ana Prvacki uses fabric to translate musicians' movements into an unusual
visual soundtrack. (Christina House / For The Times)
Wrapped in stretchy fabric, orchestral musicians become performance art at Green Umbrella festival by Catherine Womack
This Saturday, five members of the Los Angeles Philharmonic's double bass section will convene, bare-footed, inside a giant sack of stretchy, shimmering white fabric in Walt Disney Concert Hall.
Zipped inside the opaque pocket, the musicians will set up their instruments, transforming the amorphous fabric into a makeshift tent with the help of the basses' tall, pole-like necks. As they play, the tent will quiver and flex with each jab of a bow or poke of an arm.
Titled "Porcupine for tent, quintet, bows and elbows," the piece was conceived by artist Ana Prvacki and features new music by composer Veronika Krausas. Commissioned by the Los Angeles Philharmonic, "Porcupine," will be just one of many experimental pieces being performed throughout Walt Disney Concert Hall on Saturday at "Noon to Midnight," a one-day festival that launches the 2016-17 season of Green Umbrella, the orchestra's contemporary music series.
Blake Rayne: Campoli Presti, Paris

Blake Rayne, installation view, courtesy of Campoli Presti, Paris
Blake Rayne: Paris
22 September - 15 October 2016
Campoli Presti, Paris
Diana Thater: ART21
ART21 Art in the 21st Century Season 8
Los Angeles episode featuring Diana Thater
Friday, September 23, 9:00pm on PBS (check local listings)
ART21 produces features focusing exclusively on contemporary visual art and artists throughout the world. The Peabody Award-winning biennial series ART21 Art in the Twenty-First Century provides unparalleled access to the most innovative artists of our time, revealing how artists engage the culture around them and how art allows viewers to see the world in new ways.
Full episodes will be available to stream online on the days following each episode's national broadcast through ART21.org, PBS.org/art21, and PBS streaming apps.
1301PE at Paris Internationale 2016
PARIS INTERNATIONALE
19–23 October 2016
51, avenue d'Iéna, 75116 Paris
1301PE is pleased to participate in Paris Internationale. We are presenting works by Fiona Banner, Fionna Connor, Kirsten Everberg, Judy Ledgerwood, Jorge Méndez Blake, Ana Prvački, Blake Rayne, Diana Thater and Pae White.

Continuing the sentiment of its inaugural edition, Paris Internationale's 2016 edition will take place at 51 Avenue d'Iéna Paris, a hôtel particulier built in 1897, most notably known as the Parisian residence and salon of prominent art collector Calouste Gulbenkian. From October 18th to the 23rd, the four story mansion, which spans over 3,000 m2, will host 60 participants including 53 galleries and 7 project spaces hailing from 19 countries. Echoing the plural identities of the participants, the building will feature a mosaic of rooms with strikingly specific characteristics. Responding to the current climate of art fairs in regards to both its production and reception, Paris Internationale is a joint initiative from 5 emerging galleries; Crèvecoeur, High Art, Antoine Levi, Sultana and Gregor Staiger, as a collective attempt to develop an appropriate model for fostering new advanced initiatives in contemporary art.
More information
Fiona Banner: Buoys Boys at De La Warr Pavilion
De La Warr Pavilion
Gallery 1
Saturday, 24 Sep 2016 - Sunday, 8 Jan 2017
Leading British artist Fiona Banner presents an immersive installation exploring her ongoing interest in language and its limitations. The exhibition, which takes place both inside and outside of the gallery, is a play on digital vs. material experiences.
Banner continues her Full Stop sculptures – a sequence of full stops from typefaces blown up to human scale, previously produced in polystyrene and bronze – reformed here as large inflatables. They will be presented as a series of happenings around the Pavilion. Full stops also feature in a vast window installation spanning the full length of the gallery, making illusory sculptural interventions, or Buoys, on the seascape beyond.
As part of the Root 1066 International Festival
Ana Prvacki: LA Phil - Noon to Midnight
Noon to Midnight

Walt Disney Concert Hall
Saturday, October 1, 2016
The LA Phil's 2016/17 Green Umbrella season begins Saturday, October 1, 2016 with Noon to Midnight, an opportunity for audiences to hear performances by a number of L.A.'s most exciting new music ensembles throughout the spaces of Walt Disney Concert Hall. You'll hear 12 world premieres commissioned by the LA Phil, plus new works by National Composers Intensive participants, in a festival-like atmosphere that includes food trucks and beer.
**1301PE is pleased to announce the world premier of Tent, quintet, bows and elbows by Ana Prvacki with the original score Porcupine by Veronika Krausas (commissioned by the Los Angeles Philharmonic and Gustavo Dudamel, Music and Artistic Director). The performance will take place at noon and 5:15pm at BP Hall.
Tickets for everything between noon and 8pm cost only $15
Jorge Pardo: Santa Barbara Museum of Art's 75th Anniversary Art Auction

Jorge Pardo, Verdical, 2015, silkscreen on paper
These stellar works of art have been assembled by the Santa Barbara Museum of Art curators for a special auction in conjunction with the Museum's 75th anniversary gala on September 18th. Auction proceeds will support a wide range of programming and ensure the success of the SBMA into the future.

The auction is live on Paddle8 through September 19, 2016.
New York Times: What to See in New York Art Galleries This Week

An installation view of Jessica Stockholder's show at Mitchell-Innes & Nash.

Jessica Stockholder 'The Guests All Crowded Into the Dining Room' by KEN JOHNSON

Jessica Stockholder's colorful assemblages of diverse store-bought and found objects call to mind a term from neuroscience, "multisensory binding." The phrase refers to the fact that the outer world appears to us seamlessly coherent, despite the many sensory signals streaming in from diverse sources — eyes, ears, nose, tongue and skin. Usually we don't notice how the mind binds together these different inputs. In Ms. Stockholder's engaging, if not wildly exciting, show of sculptures at Mitchell-Innes & Nash, your awareness of your attention's shifting between the disparate parts and the whole composition is essential.
Wallpaper: Box Fresh - Walker Art Center presents a series of artworks that think inside the box

A kit of camping essentials forms Without Title (Rucksack Installation), by Rirkrit Tiravanija, 1993
Box fresh: Walker Art Center presents a series of artworks that think inside the box by Alexandra Alexa
Everything important that I have done can be put into a little suitcase,' Marcel Duchamp declared in 1952. He was speaking of his Boîte en valise ('Box in a Valise'), a suitcase he had assembled and reproduced between 1935 and 1941 to house the body of work he had created up to that point; a mini retrospective exhibition that could be carried anywhere. This work, and that of four other artists, is currently on view at the Walker Arts Center as part of 'Unpacking the Box', an exhibition that explores the artistic potential of thinking inside the box.
Pieces include George Brecht's Valoche / A Flux Travel Aid, a box containing an assortment of quirky artisanal children's toys, including a jump rope, a chess piece and plastic eggs, and Rirkrit Tiravanija's Without Title (Rucksack Installation), a kit of camping essentials.
Wallpaper: Feeling gravity's pull - Jessica Stockholder's stacked works at Mitchell-Innes & Nash

The Guests All Crowded Into the Dining Room, installation view, 2016
Feeling gravity's pull: Jessica Stockholder's stacked works at Mitchell-Innes & Nash by Allison Young
Blurring the boundaries between painting, sculpture and architecture, Stockholder's current exhibition at Mitchell-Innes & Nash emphasises process, form, and, above all, gravity. This is apparent in installations such as Sale A Way or Security Detail that feature slouched and hanging components.
However, the force is most integral to the artist's ongoing series of Assists – sculptures that cannot stand upright without the support of a given 'base'. Assist: Smoke and Mirrors, for instance – comprised of a web of copper wire, tarp and hardware parts – is buttressed by an upholstered chair; in a future iteration, it may instead come to lean on another sculpture or object. In the Assists, each component's mass, orientation and weight affect the stability of adjacent elements. Such works, perhaps, reflect the possibilities of both vulnerability and mutual dependence within our personal and civic lives.
Rirkrit Tiravanija: Sexy Beast, A Benefit for Planned Parenthood Los Angeles, Art Auction Now Live

Rirkrit Tiravanija, Untitled (freedom can not be simulated, new york times, june 28, 2016), 2016

Sexy Beast, A Benefit for Planned Parenthood Los Angeles, Art Auction Now Live
Sexy Beast co chairs Mieke Marple, Davida Nemeroff, and Eliah Perona are excited to announce the Sexy Beast art auction is now live on Paddle 8.
This September 10, Hollywood entertainment and the art world will come together again for the second edition of Sexy Beast, an evening of performance and art auction benefiting Planned Parenthood Los Angeles (PPLA) at The Theatre at Ace Hotel, Downtown Los Angeles. Tickets can be purchased here.

The evening will feature an art auction led by Viveca Paulin-Ferrell with paddles designed by Math Bass, performances by WIFE and Mutant Salon, music by DJ Rashida, and a floral installation by Maurice Harris of Bloom and Plume. The Sexy Beast 2016 Award is designed by Kathleen Ryan.

Participating artists include: Theodora Allen, Harold Ancart, Darren Bader, Alex Becerra, Larry Bell, Brian Belott, Jennifer Boysen, Katherine Bradford, Brian Calvin, Nina Chanel Abney, Alex Chaves, Mira Dancy, Marcel Dzama, Laeh Glenn, Jennifer Guidi, Camille Henrot, Whitney Hubbs, Xylor Jane, Jasper Johns, Dwyer Kilcollin, Josh Kline, Barbara Kruger, Sadie Laska, Eric Mack, Robert Mapplethorpe, Orion Martin, Eddie Martinez, Julie Mehretu, Paul McCarthy, Marilyn Minter, Sam Moyer, Margaux Ogden, Alex Olson, Neil Raitt, Sterling Ruby, Ed Ruscha, Matt Sheridan Smith, Lucie Stahl, Despina Stokou, Claire Tabouret, Samantha Thomas, and Rirkrit Tiravanija.
For more information, please visit www.sexybeastforplannedparenthood.com

Blouin Artinfo: Fiona Banner's 'Buoys Boys' at De La Warr Pavilion

Fiona Banner, Buoys Boys, (detail) 2016, Full Stop inflatables, From left to right: Bookman,   
Courier, De La Warr Pavilion, Bexhill-on-Sea, Courtesy: De La Warr Pavilion, U.K.
Fiona Banner's 'Buoys Boys' at De La Warr Pavilion
English artist Fiona Banner's "Buoys Boys" is scheduled to run at the De La Warr Pavilion, United Kingdom, from September 24 through January 8, 2017. The exhibition includes site-specific new work by the artist both inside and outside the gallery. The theme of the exhibition centers on the artist's interest in conflict and language and is a play on digital versus material experiences.
The exhibition features her "Full Stop" sculptures, a sequence of full stops from typefaces blown up in proportion, consisting of large helium-filled inflatables. They will also be installed and float from the roof of the pavilion representing floating buoys. The sculptures also manifest in "Ha-ha" and will be placed as a panoramic window installation spanning the length of the gallery. Banner will also present a series of films and posters related to her experimental publishing activity. Through her artwork, Banner has approached the idea of language and conflict and how historical events are fictionalized over time.
Blouin Artinfo: Everyday Abstraction - A Q&A with Jessica Stockholder

Installation view of Jessica Stockholder: The Guests All Crowded Into the Dining Room at
Mitchell-Innes & Nash (© Jessica Stockholder; Courtesy of the artist and Mitchell-Innes &
Nash, NY.)
Everyday Abstraction: A Q&A with Jessica Stockholder by Taylor Dafoe
Jessica Stockholder's work is difficult to talk about because it eschews so many of the typical classifications we use to discuss contemporary art: "installation," "site-specific," "ephemeral." Indeed, that's one of the most central elements of her practice: the dissolving of boundaries.
Look no further than her immersive new show at Mitchell Innes & Nash, "The Guests All Crowded Into the Dining Room." In it, multifaceted sculptures made from found items are installed sporadically throughout the space, calling into question what belongs with what. Discarded scallop shells rest atop blue ice cube trays. An old dance floor tile is mounted to the wall above sheets of industrial metal fencing. A sagging square of linoleum hangs from a rusty hinge. There are two new pieces from her "Assists" series — modular sculptures that can only stand upright when attached to something else: a car, a piano, or in this case, two threadbare lounge chairs the artist sourced from Craigslist. (Though, the furniture isn't technically a part of the sculpture: "If you buy an 'Assist' attached to a piano, you don't get the piano," Stockholder says.)
Finally the show's central work, the eponymous "The Guests All Crowded Into the Dining Room," features a large, winding, wooden stage connected to an elevated deck gallery-goers are encouraged to walk onto. Part sculpture, part viewing platform, part pedestal, it's easy to love, but hard to explain why.
While the installation was wrapping up in the gallery, Stockholder sat down with Artinfo to talk about the show and some of the larger themes that run throughout all her work.
Jorge Méndez Blake: Other Literature
1301PE is pleased to announce the arrival of Other Literature (English translation) by leading Mexican artist, Jorge Méndez Blake. Other Literature highlights the importance of libraries as structures of knowledge and as architectural entities. Exploring the theme in works by Méndez Blake, the volume includes essays by renowned art critics and architects, including Sarah Demeuse, Verónica Gerber, and Luis Felipe Fabre. Published by RM, hardcover, 6.5 x 9.5 inches, 408 pages.

Copies can be purchased for $38 by contacting the gallery at 323.938.5822 or info@1301pe.com.
Jessica Stockholder: Mitchell-Innes & Nash, New York
Jessica Stockholder: The Guests All Crowded Into the Dining Room
August 25 - October 1, 2016; Opening reception: Thursday, September 15, 6-8 pm
Mitchell-Innes & Nash: 534 W 26th Street, New York NY 10001

The Guests All Crowded Into the Dining Room will feature works from several facets of Stockholder's practice, including a large-scale site-responsive installation in addition to distinct bodies of studio works. This will be the gallery's third solo exhibition with the artist.
Diana Thater: Untitled (Butterfly Videowall #2) in Indestructible Wonder at the San Jose Museum of Art

Diana Thater, Untitled (Butterfly Videowall #2), 2008 (detail), Five flat screen LCD monitors, 
Blu-ray player, Blu-ray disc, distribution amplifier, two fluorescent light fixtures, and Lee filters, 
Dimensions variable

Indestructible Wonder
August 18, 2016 - January 29, 2017

On view for the first time in Indestructible Wonder is the important recent acquisition Untitled (Butterfly Videowall #2) (2008), a video installation by Diana Thater. Thater filmed monarch butterflies as they rested on the ground at El Rosario Monarch Butterfly Sanctuary in Michoacán, Mexico, where millions of monarchs hibernate after their long migration from Canada. Due, in part, to the lack of foliage in which the butterflies normally take refuge, their only option was to gather together on the forest floor—an extremely vulnerable position. By placing upturned monitors on the gallery floor, Thater created a meditative experience through which to consider the lives of other creatures who share this planet.

Contemporary Thai Cuisine by Rirkrit Tiravanija and Dalad Kambuh at Dóttir

Courtesy of Dottir

When Pop Becomes Attitude | Dóttir Berlin

July 26 - August 6 | Tuesday till Saturday, from 6pm

New York chef Dalad Kambhu and artist Rirkrit Tiravanija will take over Dóttir in Berlin and create their own version of contemporary Thai eatery. For two weeks, from the 26th July to the 6th August, the two friends and Berlin lovers will serve authentic yet contemporary Thai cuisine. Guests can expect fresh and summery ingredients and dishes, served family style as sharing dishes. They will focus on seasonal and regional products and incorporate them in traditional and newly interpreted Thai recipes. On the long list of ideas are fresh artichoke salad, green curry beef cheeks, roasted duck with Panang Curry, fish sauce ice cream and melting salmon on garden vegetables. The food will be accompanied by special wine recommendations of Dóttir's sommelier Patrick Wentzel and Thai flavored cocktails by Pauly Bar's mixologists Bobbi Kay and Justin Powell.


ArchDaily: Rirkrit Tiravanija's Water Pavilion

Photo by Panic Studio LA, courtesy of City of Los Angeles Department of Cultural Affairs
DCA). Image © [Rirkrit Tiravanija 2016]
wHY and artist Rirkrit Tiravanija Design "Waterfall Pavilion" for the LA Public Art Biennial by Patrick Lynch
Now on display as part of CURRENT: LA's Public Art Biennial is "The Waterfall Pavilion," designed by Los Angeles architects wHY's Objects Workshop division in coordination with contemporary artist Rirkrit Tiravanija. The temporary installation is located at the point where water from Lake Balboa flows via a waterfall into the Los Angeles River, and consists of an open pavilion and a water purification wagon, corresponding to this year's festival theme of 'Water.'
Artillery: Current:LA Brings Art to The Valley in the Form of Tea

Current:LA Brings Art to The Valley in the Form of Tea by Beverly Western
"On Sunday we spent the later part of our afternoon trekking to the deep valley for tea. No, not the pinkies-up, triangle-sandwiches-type of tea. Instead we attended Tea Ceremony, a performance organized for Current:LA Water Public Art Biennial by Lauren W. Deutsch and Pacific Rim Arts. Here we would join Nakada Sokei, sensei, and practitioners from Urasenke Tankokai Los Angeles as they performed chado ("the way of tea") using precious water from the LA River that has been filtered and purified. Yes, the idea of anyone drinking anything from the LA river, purified or not, made us cringe…until we did it ourselves."
Kerry Tribe: Introducing Ed Rusha's films at MOCA
Join us for a screening of the only two films ever created by iconic LA-based artist Ed Ruscha, Premium (1971, 16 mm, 24 mins.) and Miracle (1975, 16 mm, 28 mins.).

Premium, Ruscha's first film, starring artist Larry Bell and model Léon Bing, exemplifies the artist's deadpan aesthetic and his investigation of the codes of Hollywood storytelling. Miracle, a story about a curious day in the life of an auto mechanic, stars artist Jim Ganzer and actress Michelle Phillips. LA-based film, video, and installation artist Kerry Tribe introduces Ruscha's films; Tribe's work is included in LA's first public art biennial, CURRENT:LA Water, opening July 16, 2016. Felipe Lima will present Ed Ruscha: Buildings and Words, a new short-length documentary film about Ruscha's extraordinary body of work written and directed by Lima.

KCET: A Guide to Current:LA Water, the Biennial Bringing Art to 16 Locations Across the City

Kerry Tribe, "Exquisite Corpse." | Photo: Panic Studio LA.
A Guide to Current:LA Water, the Biennial Bringing Art to 16 Locations Across the City, by Carren Jao
"This summer, Los Angeles' riverbanks and water-related sites will blossom to life despite the drought... Across 16 locations (15 designated sites plus a "hub") from Bee Canyon Park in Granada Hills to Point Fermin Park in Long Beach, site-specific artwork and public programming by international and Los Angeles-artists will provoke visitors to ponder the tangled web of connections water weaves in our city's history."

The New York Times: Current: L.A. Brings New Art Projects to the City
'Current: L.A.' Brings New Art Projects to the City, by Jori Finkel
"Lacking an organization like New York's Creative Time or Public Art Fund, Los Angeles artists have long depended on local museums and scrappy nonprofit galleries to fund of-the-moment public art. Now the city's Department of Cultural Affairs has a new biennial to help fill the gap: "Current: L.A.," which runs for a month starting on Saturday.
This year's theme is water, inspired by the record-setting drought in California as well as city ambitions to transform the Los Angeles River, which for stretches resembles a concrete trench, into a more functional, accessible and even leafy refuge for city-dwellers."
Rirkrit Tiravanija: untitled 2016 (LA water, water pavilion) at CURRENT:LA Public Art Biennial
Rirkrit Tiravanija
CURRENT:LA Public Art Biennial
untitled 2016 (LA water, water pavilion)
16 July - 14 August, 2016
Lake Balboa, 6300 Lake Balboa Hiking Trail, Los Angeles, CA 91411
It is with great pleasure that 1301PE announces Rirkrit Tiravanija's contribution to the CURRENT:LA Public Art Biennial, 'untitled 2016 (LA water, water pavilion)', a temporary public artwork that consists of an open pavilion and a water purification wagon. The work was created in collaboration between the artist, Kulapat Yantrasast from wHY and the non-profit Water One World Solutions.
Located at the very site where reclaimed water from Lake Balboa flows via a gushing waterfall into the Los Angeles River, the work offers visitors a sphere of respite and recovery as well as prompts them to reconsider their relation to water. The water purification system allows for the river's non-potable water to be reclaimed, purified and consumed by the public; the water will also be used in different performances during the opening weekend. The work can be experienced every day during the biennial from 5:30 am to 10:30 pm.
LA Weekly: A New Project Lets Viewers Explore All 51 Miles of the L.A. River in 51 Minutes

A Still of the Los Angeles River from Kerry Tribe's 'Exquisite Corpse'

A New Project Lets Viewers Explore All 51 Miles of the L.A. River in 51 Minutes, by Catherine Womack
"Artist Kerry Tribe has a deeply ingrained sense of civic duty. When she noticed that the garden at her children's public elementary school was neglected, Tribe got her hands dirty and started planting. She tackled forestry issues in her Eagle Rock neighborhood by running for elected office. And when the city of Los Angeles approached her last summer to submit a project proposal for Current:LA Water, the city's first public art biennial, Tribe developed a large-scale piece that incorporates her passion for community and ecology."
Kerry Tribe: 'Exquisite Corpse' at CURRENT:LA Public Art Biennial
Kerry Tribe
CURRENT:LA Public Art Biennial
Nightly screenings of Tribe's 'Exquisite Corpse'
16 July - 14 August, 2016
1301PE is pleased to announce Kerry Tribe's participation in Los Angeles' first public art biennial, CURRENT:LA, which will take place between July 16 - August 14 exploring the theme of 'water'. Tribe's contribution, 'Exquisite Corpse', is an open-air nightly screening of a 51-minute film that traces the 51-mile Los Angeles River from its origins in the San Fernando Valley to its terminus at the Pacific Ocean.
Nightly screenings in Sunnynook River Park at 8:30 p.m. Pre-screening presentations by the Theodore Payne Foundation for Wildflowers and Native Plants every Friday at 7:00 p.m.
Ana Prvački: PLEASE HAVE ENOUGH ACID IN THE DISH! at M+B
Organized by Vinny Dotolo
July 7 - September 2, 2016
Participating artists include: Harold Ancart - Alex Becerra - Louise Bonnet - Derek Paul Boyle - Matthew Brandt - Greg Colson - Bjorn Copeland - Cameron Crone - Awol Erizku - Kim Fisher - Samara Golden - Rives Granade - Joel Kyack - Dwyer Kilcollin - Friedrich Kunath - Shio Kusaka - Candice Lin - Nevine Mahmoud - Josh Mannis - Calvin Marcus - Max Maslansky - Joshua Nathanson - Claire Nereim - Ariana Papademetropoulos - Ana Prvacki - Sean Raspet - Charles Ray - Fay Ray - Ed Ruscha - Adam Silverman - Marisa Takal - Kenneth Tam - Paul Pascal Theriault - Charlie White - Chase Wilson - Jonas Wood - Eric Yahnker
M+B, 612 North Almont Drive, Los Angeles, California 90069
Jorge Méndez Blake: LADERA OESTE Inaugural Exhibition
LADERA OESTE
is a non-profit independent exhibition space, founded by curator Geovana Ibarra and artist Jorge Méndez Blake in Guadalajara, Mexico.

Artists: Vito Acconci, Santiago Borja, Pia Camil, Alejandro Cesarco, Edgar Cobián, Fiona Connor, Claire Fontaine, Karl Holmqvist, Runo Lagomarsino, Nicolás Lamas, Fernando Palomar, Allen Ruppersberg, Valeska Soares


Opening: Saturday, July 9, 12–15 h
New York Times: Judy Ledgerwood, Pussy Poppin' Power
Working with spontaneous panache, the Chicago artist Judy Ledgerwood paints expansive, boldly colorful grid-based abstractions. An infectious exuberance animates her new canvases in an exhilarating exhibition at Tracy Williams on the Lower East Side.
The paintings consist mainly of rows of diamond shapes that combine into optically percussive argyle patterns. Enhancing the rhythms, thick and thin dots of paint punctuate the lozenges. In "Mountain," the show's biggest piece at 7½ feet by 12 feet, three horizontal rows of spotted diamonds in many colors fill the viewer's visual field with a strobing fabric of syncopating voluptuousness.
A distinctive feature is how Ms. Ledgerwood shapes her compositions. She leaves white borders around the edges of the canvases, as if the overall designs were tapestries or quilts pinned by the upper corners to white walls. They seem to droop and bow outward, creating paradoxical fusions of actuality and virtuality. Drips of paint falling over the white, lower edges of the canvases further confound the dichotomy of the real and the illusory.
This may sound complicated in theory, but on canvas it's perfectly clear. Painting with the carefree abandon of an improvising jazz musician, Ms. Ledgerwood makes what's hard look easy. - Ken Johnson
Hyperallergic: Sexual Abstraction: Judy Ledgerwood's Recent Paintings
Sexual Abstraction: Judy Ledgerwood's Recent Paintings by John Yau
If, as Amy Sillman has said, "The elephant in the room is sex," Judy Ledgerwood's paintings ask the viewer: What exactly do you think you are looking at? The viewer sees a shaped rectangle painted onto an immaculate white ground. A catenary seems to have been used to determine the rectangle's top curved edge, while both sides bow in slightly, bringing to mind textiles hanging on a laundry line. A few rivulets of paint drip down from the rectangle's uneven bottom edge. Meanwhile, the thick stretcher bars turn the painting into an object protruding from the wall, rather than a flat thing hugging it.
In a public conversation I had with the artist the day after her show, "Judy Ledgerwood: Pussy Poppin' Power," opened at Tracy Williams (May 7 – June 16, 2016), it was evident how clearly she had thought about all the issues – including the relationship between painting and architecture – that I've just described. Her paintings are what David Reed would call "bedroom paintings." In her case, this means diamond-patterned grids in which emblems of sexual desire disrupt the comforting visual rhythms we associate with modular units and repetition.
Paul Winstanley in coonversation with Charlotte Mullins
Artist Paul Winstanley speaks to historian, writer and broadcaster Charlotte Mullins about his new body of paintings and prints that depict the interiors of British art schools in conjunction with the exhibition 'Paul Winstanley | Art School: New Prints and Panel Paintings at Alan Cristea Gallery, 17 March - 7 May 2016.
During the summer months of 2011 and 2012 Paul Winstanley traveled throughout England, Scotland and Wales photographing unpopulated art school studios, including the iconic Mackintosh Building, Glasgow School of Art, that was later severely damaged by fire in 2014. The imagery, selected from over 200 photographs, provided the source material for this new series of work.
View video of conversation here
SUPERFLEX participates at Emscher Kunst 2016
Photo: SUPERFLEX

4 June - 18 September 2016
SUPERFLEX presents the new work Waste Water Fountain at Emscher Kunst 2016, a 50km long Art Trail that stretches between the cities of Holzwickede, Dortmund, Castrop-Rauxel, Recklinghausen and Herne in Germany. With this work, SUPERFLEX erects a temporary memorial in form of a great fountain amidst the course of a river still carrying waste water on site, at the Stadthafen in Recklinghausen. The Emscher's industrial image, an open waste water canal, reminds the artists of open intestines, our vital organ. Superflex celebrates the waste water for 100 days of Emscherkunst before it soon vanishes underground completely due to the Emscher conversion.

The Emscherkunst accompanies the development of a natural riverscape in the heart of the Ruhr area as a triennial. In a generational project, the open waste water canal Emscher is being converted to a close-to-nature river since the 1990s.The river's's waste water is conducted with pumps through the more than 4m high sculpture. It rises over the water surface and ground level and vehemently enters the observer's view, equally showing uninhibited passion for breaking taboos and also delight for the absurd. The get-together of all our waste that used to be part of us, and the participation in a universal process of degradation shall also be celebrated, according to Superflex.
Rirkrit Tiravanija: Tomorrow is the Question at the Stedelijk Museum Amsterdam
Rirkrit Tiravanija, untitled 2012 (who if not we should at least try to imagine the future, again) (remember Julius Koller). 14 mirror polished stainless steel ping pong tables, Gavin Brown Enterprise, NY. Photo: Thomas Müller

Rirkrit Tiravanija

Tomorrow is the Question
A co-production of Holland Festival and the Stedelijk Museum Amsterdam
June 4–26, 2016
Thai artist Rirkrit Tiravanija (1961) creates art that explores human social interaction. In Tomorrow is the Question, he will set up a series of stainless steel ping pong tables and invite the public to participate in his work. Tiravanija has staged exhibitions at venues throughout the world. Tomorrow is the Question (2015)—previously presented in Moscow, Arles, France, and elsewhere—marks the artist's debut in Amsterdam. Tiravanija is seen as one of the most influential multimedia artists of his generation.
With his installation on the Museumplein, Tiravanija blurs the line between art and life. The work playfully confronts traditional ways of viewing art in classic Tiravanija style, as well as the etiquette that goes with it. As an alternative, the artist offers a more theatrical and social—and more enjoyable—experience. Tiravanija sees art as something artist and viewer create together, a process where people can be social beings, preferably outside the rarified realm of the gallery space. "It is not what you see that is important, but what takes place between people," says Tiravanija.
The social interaction that Tiravanija pursues with this project has different historical references, from the ping pong matches organized at a gallery in Bratislava as a way of communicating by Slovakian artist Július Koller in the 1970s, to the Ping Pong Diplomacy of the United States during the Cold War period. In 1971, the US organized a ping pong tournament between American and Chinese players, under the motto "Friendship First, Competition Second."
The work is accessible to everyone and free of charge. Ping pong paddles and balls can be borrowed from a distribution point on Museumplein.
Fiona Connor: Newspaper Reading Club in Routine Pleasures, MAK Schindler House
Opening Reception: Wednesday, May 25, 2016, 7-9 PM

Wednesday, May 25 – Sunday, August 14, 2016

Schindler House
835 N Kings Road
West Hollywood, CA 90069


Routine Pleasures brings together artists working in a variety of media to explore "the termite tendency," a concept introduced by artist and film critic Manny Farber (1917–2008) in his 1962 essay "White Elephant Art vs. Termite Art." Whereas the original essay applied these labels to the work of filmmakers, exhibition organizer Michael Ned Holte finds manifold parallels in contemporary art.

In today's overheated art world, it is easy to see a preponderance of "white elephant" art, defined by Farber as "yawning production of overripe technique shrieking with preciosity, fame, ambition." Routine Pleasures presents practitioners who embrace a quieter, more process-oriented approach. Like termites, these artists focus closely on what is before them, and follow the work wherever it may lead, often in diffuse directions. To locate and expand upon Farber's construct of the termite tendency, the exhibition features works by: James Benning; Jennifer Bornstein; Center for Land Use Interpretation; Harry Dodge; Manny Farber; Judy Fiskin; Magdalena Suarez Frimkess and Michael Frimkess; Galería Perdida; Sarah Lehrer-Graiwer; Simon Leung; Lucky Dragons; Roy McMakin; Carter Mull; Newspaper Reading Club; Pauline Oliveros; and Steve Roden.
Jessica Stockholder: Colour Jam Houston
Color Jam Houston treats the intersection of Main and McKinney as a single public canvas. The stripes of color on the four corners seem to be woven together and present a kind of basket. The weaving of different stripes together into a single whole is resonant with the reality of different owners, jurisdictions and codes that govern this section of public space consisting of crosswalk, roadway, sidewalk, store fronts and Metro platform. The work also signifies the delicate social and political balance that exists between individual rights, freedoms, responsibilities and our collective well-being and coexistence.
KCET: Current:LA, A New Public Art Biennial
A recent mayoral announcement officially launched the Department of Cultural Affairs' new Current:LA initiative, an issues-driven public art biennial whose inaugural edition happens at non-traditional locations scattered across the city in July and August. The first edition, Current:LA Water, addresses the multivalent topic of water's usage, history, and role in the city's physical and social infrastructure. This includes the L.A. River, but as the organizers are quick to point out, it is about so much more than just the river. There's water infrastructure throughout the city from the Port of L.A. (San Pedro) to the L.A. wetlands of Ballona Creek, to Hansen Dam in the north), and of course, the coast.
The DCA's Public Art Division is using $1 million received through a grant program of the Bloomberg Philanthropies' Public Art Challenge, plus matching funds from the city's Arts Development Fee (ADF) program, more commonly known as the percent-for-art program that taps developers and other kinds of businesses for sustaining funds for what is usually permanent works of public art. But forget that abstract-sculpture-in-a-plaza model of public art; the Bloomberg grant specifically called for temporary public art projects and public programs at outdoor locations, and the DCA has embraced this paradigm shift with an enthusiast, open-minded can-do spirit taking full advantage of what DCA general manager Danielle Brazell calls "L.A.'s inspired moment."
Besides reframing the conversation on what public art can be, Current:LA is also reconfiguring assumptions about what a biennial looks like.

Current:LA Water with Rirkrit Tiravanija and Kerry Tribe
via the LA Times:
Mayor Eric Garcetti announces artists for L.A.'s first public art biennial to be held this summer
More than a dozen artists — including L.A.-based Kori Newkirk, Edgar Arceneaux, Gala Porras-Kim and Michael Parker — have been selected to participate in Los Angeles' first public art biennial, Mayor Eric Garcetti announced at a news conference early Tuesday afternoon.
The "Current:LA Water" exhibition will consist of temporary outdoor installations that will go up throughout the city this summer, all focused on the theme of water.

The project was initiated by the Public Art Division at the Department of Cultural Affairs and is supported by a $1-million grant from Bloomberg Philanthropies, and other financial support.
Felicia Filer, the director of the Department of Cultural Affairs' public art division, said in a statement that the line-up is "an exciting group of internationally recognized and emerging talents that are as culturally diverse as the inhabitants of Los Angeles."
This includes video artist Kerry Tribe, conceptual artist Rirkrit Tiravanija, installation artist Teresa Margolles and social practice pioneer Mel Chin. Also on the list are the sound duo Lucky Dragons (Luke Fischbeck and Sarah Rara), sculptor Candice Lin, sound and performance artist Chris Kallmyer and two artist teams — Josh Callaghan and Daveed Kapoor, and Refik Anadol and Peggy Weil.
Biennial artists were selected by a curatorial committee that includes Ruth Estévez of REDCAT; Rita Gonzalez from LACMA; Karen Moss, an art historian and curator who also teaches at the Otis College of Art and Design; and Irene Tsatsos, the chief curator at the Armory Center for the Arts in Pasadena.
"Current:LA Water" will be on view throughout Los Angeles in July and August.

More info here. LA Times article here.
Fiona Connor: Canyon School up for auction to benefit Canyon Charter School
Fiona Connor, Canyon School, 2016, ink on paper, 10 x 14 inches
Click here to bid on the work.
All benefits go to the Canyon Charter School in Santa Monica. The auction concludes on April 24th at the Canyon's Fiesta and Auction, 11am - 4pm.
Artnet: Superflex's Readymade Medical Equipment is Now in Use in a Gaza Hospital
Superflex's 2014-15 exhibition "Hospital Equipment," at the Den Frie Center for Contemporary Art. Photo: Anders Sune Berg, courtesy Superflex.
Casualties of recent fighting in the Gaza Strip may well find themselves undergoing surgery atop an operating table that is also an artwork. In what the three-man Danish collective Superflex calls a "readymade upside-down," the artists organized for a museum exhibition of top-of-the-line medical equipment which then went to a setting defined less by well-heeled visitors than by life-threatening injuries.
As a result, Al-Shifa Hospital is the beneficiary of some $90,000 worth of goods, including the operating table and surgical lamps, with the financial support of Danish product design company Area9, which is one of three private collectors to acquire the piece. The table itself, the motorized, highly mobile Trumpf Medical MARS model, represented more than half the cost. The choice of equipment was guided by by PalMed, an organization of medical professionals who aim to provide improved care for Palestinians living in Gaza. Al-Shifa treated the largest number of victims of the most recent conflict in Gaza, says Dr. Mahmoud Ismail, head of PalMed's Danish office, in a press release.
Working together since 1993, the artists (Bjørnstjerne Christiansen, Jakob Fenger, and Rasmus Nielsen) have created socially-engaged projects in various mediums that examine the baleful effects of capitalism via financial and banking structures, the place of fossil fuel in the global economy, and systems of free trade, among other subjects.
Huffington Post on Ana Prvacki: A Catalogue Of Wonderfully Useless Ideas Highlights The Power Of Imagination
Artist Ana Prvacki dares to imagine how our smallest, most absurd ideas can change the world.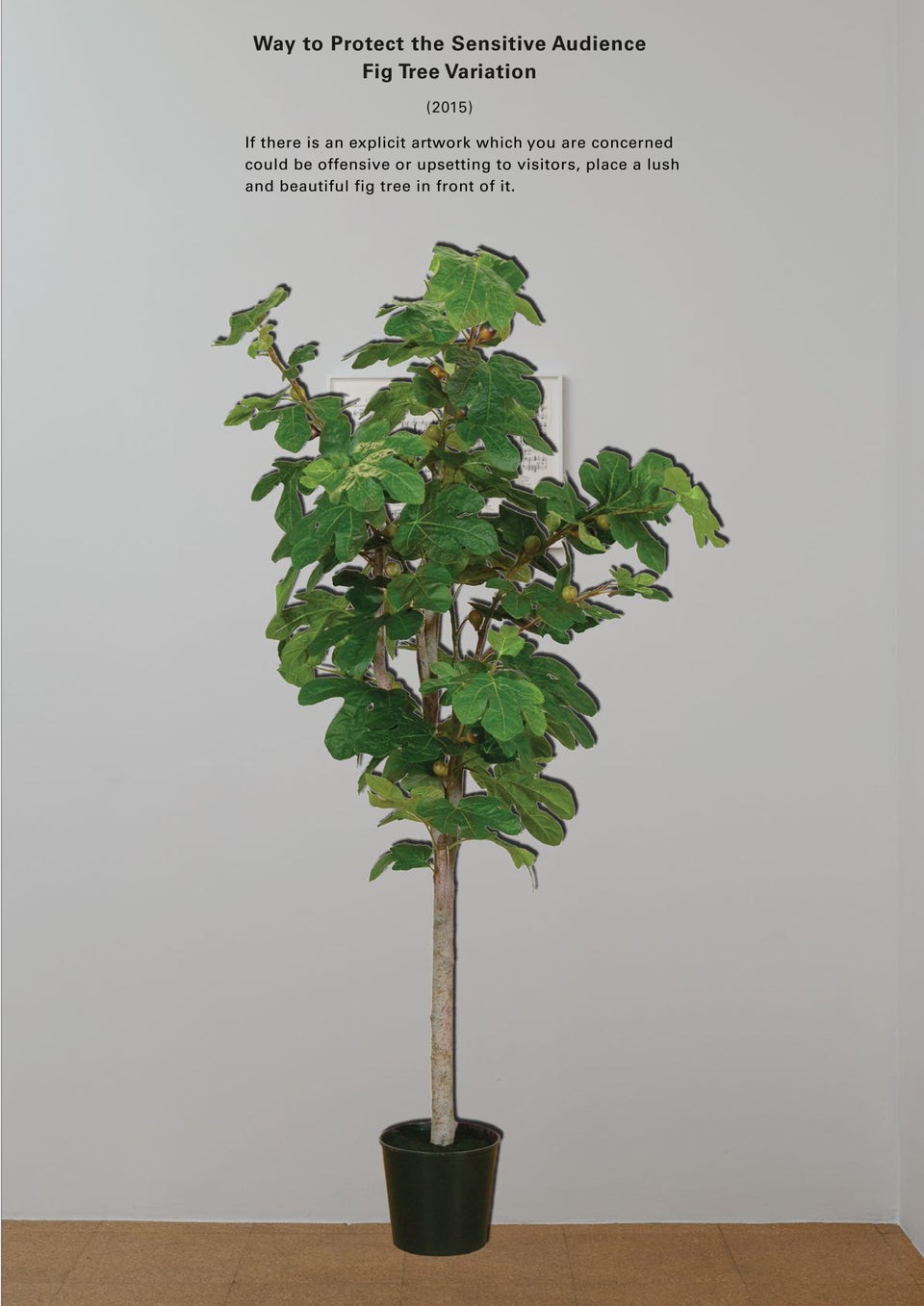 A great gift -- one that's significant, thoughtful, filled with meaning, big -- can be, despite all good intentions, somewhat of a drag. The time, money, thought and resources that go into a diligently assembled gift can leave the recipient with a combination of appreciation and anxiety, grateful for the magnanimous offering but nervous for when, if, and how the service will be repaid.
That's why, for me, the most generous gifts are not the large ones that come elaborately wrapped up on holidays with a big bow on top. Instead, they're the ones that come unexpectedly and with joyful ease -- a note on your pillow, a candy on your desk -- gestures weightless and light as air.
Ana Prvacki's artworks are such gestures. While most art grapples with Big issues like Death, Sex, God, History, The Color Blue -- Prvacki's preferred concepts are simple and succinct. For example, how to properly alert your friend to the small leaf of spinach caught between her incisors.
- Priscilla Frank

Click here for full text and images.
Artforum.com: Fiona Banner Critics' Pick
An unflattering view of a power suit's trousers greets visitors to Fiona Banner's exhibition: aqueous gray lines diverge down a big Day-Glo orange sheet to form Pinstripe Bum Face, 2015. If the intrepid financiers who steered the 2008 banking crisis sought unregulated waters, Banner finds premonitions of our recessional present in Joseph Conrad's Heart of Darkness (1899). The novel opens on a dusky River Thames; Orson Welles set his unrealized screen adaptation on the Hudson—both waterways opened the world's oceans to the West's colonizing, commercial capitals. It is not lost on Banner that these waters now conceal the gangly fiber optics that keep both cities at the mouths of more ephemeral trade.
Upstairs is a salon hang of posters and prints incorporating Conrad quotes and ISBN numbers, as if posing the shadowy Company that sends Marlow after Kurtz as a venerable publisher of art books. Among them are a graphite rubbing of a brass placard that reads Power, 2016, and Thames and Hudson Nude, 2012, a silk screen of a woman's silhouette beside a page of Welles's script. On a nearby plinth sits a copy of Banner's own Heart of Darkness, 2015, a September issue–size magazine lavishly illustrated with glossy shots of London's financial district taken by Paolo Pellegrin, a conflict photographer. In the HD video Phantom, 2015, a drone tracks a copy of Banner's book as strong winds push it across a parking lot. Its pages—flapping to shreds—flash a colonnade, a revolving door, and a spread of waves.
For Conrad, madness follows mere corruption. For Banner, this holds true. In Mistah Bag, 2015, the phrase "Mistah Kurtz he not dead"—the artist's revision of Conrad's famous line—appears in gold serif on a black plastic shopping bag. The body may be buried, but the spirit still sails.
— Travis Diehl
KCRW: Hunter Drohojowska-Philp on Fiona Banner's Heart of Darkness
Heart of Darkness, the 1899 novella by British author Joseph Conrad, is the story of the mysterious character Captain Kurtz as remembered by the captain of a steamer traveling up the Congo River. Loosely based on Conrad's own experience as a young seaman, it is written in a deeply descriptive and symbolically-charged manner that has attracted a number of reinterpretations including a film never realized by Orson Welles and, possibly the best known version, the 1979 film Apocalypse Now.
British artist Fiona Banner has been mining this fictional territory at least since her 1999 Nam, a "wordscape" describing the violence in that and various other films about the Vietnam War. In this show, she applies the book's metaphorical observations to business conducted in the City of London, a financial heart of darkness in this context, where the brokerages are centered. If morally abhorrent actions in the book are driven by greed, Banner's work suggests that parallels can be found in the capitalist motives of the City.
The Wall Street Journal: 'Ann Veronica Janssens' Review: Lights, Color, Action
The most civilized spot in this city of sprawl, tall buildings, shopping malls and a spider's web of highways is one of Renzo Piano's great buildings, the Nasher Sculpture Center in the downtown arts district. Until several years ago, at the end of its stately garden filled with masterpieces by Rodin, Picasso, Calder, De Kooning, Moore, Di Suvero, George Segal and Richard Serra, there also stood one of James Turrell's "sky spaces," an enclosed room in which a visitor could look up at the changing heavens. As a consequence of a continuing dispute with a neighboring condominium tower whose height eradicated the room's sky view, the piece has been closed permanently.
Mr. Turrell is a master of light. Now, another master of light's uses and effects, Ann Veronica Janssens (British born; Belgian based), is having her first solo American show here. Outside, to the right of the Nasher's main entrance, "Green Aurora" is a small, projected light piece, barely noticeable. Indoors, placed diagonally on the floor, lies "IPE 700," a single 23-foot-long steel I-beam, its top side polished and reflective. In its solid materiality, this is the most conventional of Ms. Janssen's works here. As you look around you, materiality gives way to light and lightness. Four pieces she calls "Aquariums," variations on a theme, of identical size (21 5/8 inches cubed) and made of glass, distilled water, paraffin oil, and ink or silkscreen, stand atop identical wooden bases. They refract the light, and they also reflect Mr. Piano's signature grids for the Nasher roof above. Each is titled and colored differently: "Cocktail Sculpture" is pure glass; the others are called "Orange," "Margarita," and "Blue Wind" for their main shades. They will remind viewers of Donald Judd's 100 milled aluminum boxes in Marfa, Texas.

art Magazin: Ana Prvački
Aktuell überschätzt: Das Original! In L. A. verkauft die Künstlerin Ana Prvački für viel Geld die Schattenwürfe berühmter Kunstwerke – thanks to Marcel Duchamp

Dass auf unserer Gegenwart der lange Schatten der Vergangenheit ruht, ist eine häufig bemühte Metapher, die man eigentlich nicht mehr hören mag. Nur in der Kunst, wo gern alte Ideen re­cycelt werden, lässt sich so eine abgegriffene Erkenntnis noch in Gold verwandeln. Ana Prvački jedenfalls hat das mit dem Schatten wörtlich genommen und stellt in der 1301pe-Galerie in Los Angeles die Schattenwürfe berühmter Skulpturen aus: Michelangelos David, den Schreitenden von Alberto Giacometti, Constan­tin Brâncusis Endlose Säule und natürlich auch Marcel Duchamps Fahrrad­Rad. Nicht die Skulpturen selbst, wohlgemerkt, sondern nur die Silhouetten, die sie auf dem Boden oder an der Wand hinterlassen. Die 1976 im ehemaligen Jugoslawien geborene Künstlerin nennt ihre neue Werkserie Stealing Shadows und bedient sich dabei natürlich ganz bewusst einem der größten Erfolgsmodelle der Moderne: dem Prinzip des Readymade (siehe auch Seite 34) und dessen Wiedergänger Appropriation Art. Größe und Material der Schattenwürfe sind variabel – auf Wunsch können sie auf den Boden aufgemalt oder als ausgeschnittener Filzbelag erworben werden. Der Preis der »gestohlenen Schatten« ist hingegen nicht verhandelbar. Er bemisst sich am Wert des Originalwerks und soll exakt ein Prozent des Preises sein, den die jeweilige Skulptur auf einer Auktion erzielt hat, so hat es die Künstlerin verfügt. Der Schatten von Louise Bourgeois' Bronzespinne beispielsweise ist mit 281 650 US­Dollar ausgezeichnet, weil eben dieses Werk letztes Jahr bei christie's für das Hundertfache versteigert wurde. Stolzer Preis für den Umriss eines Kunstwerks, den man mit Taschenlampe und Photoshop auch selber herstellen könnte. Aber wer so denkt, hat eben Marcel Duchamp nicht verstanden. Nicht das Werk zählt, sondern die Idee, lautet das Mantra der Moderne. So gesehen liegt Prvačkis konzeptuelle Schattenkunst ganz weit vorn. Denn wer will sich in unsicheren Zeiten noch mit zentnerschweren Skulpturen belasten? Oder wie die Künstlerin sagt: »Auch wenn es eine sehr einfache Idee ist, ist sie doch sehr wertvoll. Dünnere Dinge zu machen sollte sogar mehr Wert haben als große Dinge.«

- Ute Thon
New York Times: Ann Veronica Janssens Casts Strong Beams at Bortolami
The work of Ann Veronica Janssens, a British artist who lives in Brussels, precipitates the heightened optical and spatial awareness similar to that of Light and Space but without the often attendant fuss that seems antithetical to the movement's less-is-more, dematerialized aesthetic. At least as seen here, in her first solo show in the United States, Ms. Janssens's efforts avoid the more grandiose Light and Space hallmarks, including the immaculate built-out environments, computerized light shows and viewers removing their shoes. The results are less immersive, but more thought-provoking.
At Bortolami, Ms. Janssens, who has shown in Europe since the early 1980s, presents six eye-teasing works. The most immediately arresting is a thick layer of aqua-blue glitter, spread on the floor. About the size of a kiddie pool, it is lush and dazzling and flashes shades of green and yellow as you circumnavigate it, almost as if its surface were moving.
More understated are two modest sheets of corrugated aluminum that jut out from two walls, tilting upward, a little like awnings. They seem to levitate, delicately shaded on their undersides and glowing on top, as if harboring concealed lights. Actually, the aluminum is covered with platinum leaf, and each piece is fittingly titled "Moonlight," which is, of course, all reflected. A narrow portion of vertical blinds, titled "California," also seems lighted from within but is simply covered with gold leaf. The show culminates in a room where seven spotlights with pink gels form a circle on one wall while a haze machine lends heft to their crossing beams, which cast a lotuslike pattern on the opposite wall. These pieces might weaken if seen separately, but together their trick-free, low-tech magic is refreshing.

- Roberta Smith
Glasstire: Top Five: Ann Veronica Janssens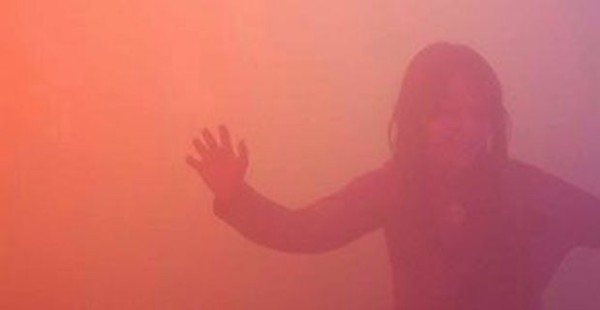 1. Ann Veronica Janssens
Nasher Sculpture Center (Dallas)
January 23 – April 17
An exhibition of works by Brussels-based artist Ann Veronica Janssens. For this show, Janssens has created sculptures that play with the eye, in which viewers "encounter shifts in surface, depth, and color, challenging perception and destabilizing their sense of sight and space."
Star-Telegram: Artist Ann Veronica Janssens takes us inside the rainbow
Ask your children if they would like to take a walk in a rainbow. The answer should be a unanimous yes.
You can deliver on this enticement at the Nasher Sculpture Center in a new exhibit by Belgian artist Ann Veronica Janssens.
Janssens is an artist who manipulates light, and in her piece titled Blue, Red and Yellow, a rainbow of light is encased in a large rectangular box in the Nasher's garden. She fills the box with fog from a fog-producing machine, and as the sunlight streams into the box made of colored plastic panels, it transforms the fog into clouds of color.
Unexpectedly, though, the fog is so saturated that as soon as people enter the cube, they disappear. You can hear them; in fact, audio perception is heightened, but you cannot see them. All that can be seen are the billowing colors that change through the prismatic palette and the tiny optical floaters that are always there on your eyes but are rarely noticed.
It's beyond weird in a wonderful way.
The Creatorsproject: Throwing Shade—Literally—At the World's Greatest Art
In the increasingly stock market-esque culture that the art world and market have become, the work of a select few artists that entertain billionaire patrons cast shadows upon everyone else's creations. Serbian born, LA-based artist Ana Prvački has opted to explore this metaphor in a literal fashion in her most recent exhibition, Stealing Shadows.
Prvački's show, which opened at LA gallery 1301PE last weekend, consists of the silhouettes and shadows of incredibly familiar works of art. Through projection and in some cases a thin sculpting process, Prvački has created "shadow-artworks" of iconic and easily recognizable pieces, including Jeff Koons' Rabbit and Michelangelo's David.
"I was thinking a lot about the tendency for appropriation and a kind of cleverness towards art history in the contemporary art practice," tells Prvački. "I was intrigued at the possibility of a playful, humorous gesture of stealing shadows but at the same time with the question of value and a critique on pricing."
Wallpaper: Shadow play: artist Ana Prvački satirises the art market with new works in LA
The artist Ana Prvački has imagined the shadows of some of the world's most famous (and expensive) artworks. Staged at 1301PE, Los Angeles, 'Stealing Shadows' is both a comment on the position of physical production in contemporary art practice and its 'preoccupation with ephemera and mischievous urges', and a critique of the commercial engine of culture. 'Shadows are in the spirit of the moon, they change depending on time of day and the season – just like the art market,' Prvački notes.
Prvački – known for her performance work on consumer aesthetics, gestures and etiquette – has been mulling over the idea since 2007. It comes to fruition following a publication that the artist released last year with the ICA Singapore, a catalogue of her 'uncomfortable imagination'. In order for the exhibit to work in reality, all of the pieces Prvački selected had to be inscribed on the collective cultural conscience – so that they could be recognised in flat format. This process of eking out iconic contemporary works is revealing in itself, but Prvački is also asking the viewer to contemplate very directly how value is attributed to art, pricing her stolen shadow works in relation to the original. 'Stealing shadows of famous masterpieces and selling them at one per cent of their auction price is both tactical and economical. I think it is a timely project and audiences are really ready to talk about the economy of the art market, the one per cent, the value of art and ideas.'

But can you get your hands on a stolen shadow? The artist explains that she can custom design them to fit any space, and in a variety of formats that range from digital projection, painting or graffiti, or as an animated shadow that moves through a space as an umbra, penumbra or antumbra. 'There is something very poetic and elegant about shadows – I think the subtle yet very graphic nature of shadows appeals to our psyche. There has been great dialogue with artists, collectors, dealers, and copyright lawyers at the exhibition!'
-Charlotte Jansen

Independent: Ana Prvacki: US artist pays homage to greats by creating shadows of their work
Ana Prvacki is living in the shade of other, more famous artists. But if the price of the works she is displaying in a Los Angeles gallery are any guide, there is good money to be made in the shadows.
The 39-year-old has taken homage to a new level by exhibiting works based on the shadows cast by a series of well-known sculptures. Visitors to the 1301PE gallery can play a game of "name that shadow" with Jeff Koons's Rabbit, Marcel Duchamp's Bicycle Wheel and Michelangelo's David creating some of the most familiar outlines.
Each of the new works costs only one per cent of the original sculpture's current market price, but it's a formula that makes for some eye-watering prices.
Artforum: James Nisbet on Jack Goldstein

Jack Goldstein, Burning Window, 1977/2015, wood, Plexiglas, acrylic paint, lights, dimensions variable.

Exhibiting three of Jack Goldstein's lesser-known works—his Burning Window installation, 1977/2015, and two sets of text-based Aphorisms (both dated 1982) painted on the gallery wall—this show distilled a tension within Goldstein's practice between mundane observation and metaphysical introspection. Burning Window consists of a single window frame containing four panes of textured Plexiglas placed in the center of a gallery wall that has been painted bloodred. Behind this window, flickering red lights give the appearance of fire. But this faux flame produces no heat. Instead, Burning Window effects an unsettling experience with its uneasy marriage of implied trauma and camp. No spectator of this installation would reasonably assume that Burning Window was intended to simulate an actual fire. Its reality is far more ambiguous. Goldstein commented in the compilation Portfolio Performance, 2001, that "the window functions as a 'safe' but fragile barrier in front of which the spectator is witness to the world outside as a measureless inferno." Burning Window evokes film but is not quite "cinematic"; suggestive of a narrative, in actuality it more acutely dramatizes the staged quality of its moving images. Per Goldstein, the spectacle "calls into question the 'truth' of visual experience."
LA Times: 'Diana Thater: The Sympathetic Imagination' at LACMA stuns the senses
by Sharon Mizota
Walls dissolve in Diana Thater's beautiful, affecting retrospective at the Los Angeles County Museum of Art. For 25 years, the L.A. artist has been creating immersive video installations that appear to breach the contours of the gallery, transporting viewers into other realities: swimming with dolphins, interacting with wolves or exploring the contaminated ruins of the Chernobyl nuclear power plant.
Throughout, Thater has exploited the technology and conventions of video to examine the nature of perception and to probe the fraught line between human and animal.
With just 22 works, "Diana Thater: The Sympathetic Imagination" is tightly focused, somewhat austere but nevertheless stunning. Curators Lynne Cooke of the National Gallery of Art in Washington, D.C., and Christine Y. Kim of LACMA have selected major pieces and given them ample space to play. They forgo wall labels, and some of the room-filling installations overlap a bit, suffusing the space in lovely fields of colored light. (An indispensable gallery guide includes maps, titles and a brief artist statement for each work.) The exhibition is split among three buildings on the LACMA campus, but even this potential disconnect provides welcome breathers from what might otherwise become retinal overload.
KCRW: Edward Goldman on Kirsten Everberg
http://www.kcrw.com/news-culture/shows/art-talk/art-of-war-and-peace
"The exhibition of paintings of LA-based artist, Kirsten Everberg, at 1301 PE Gallery will slow you down and put you in a quiet, meditative mood. Everberg traveled to Sweden to the remote island of Faro, where famous film director, Ingmar Bergman, lived for most of his life. Inspired by the architecture and interior of his house, she created a series of oil and enamel paintings, abstract and representational at the same time. The pale light of Nordic White Nights fills the rooms. Everything looks realistic, but strangely mysterious. Stepping close to the paintings, one discovers the elaborate texture of individual brushstrokes, as if enamel and oil are still wet and continue to slowly drip down the canvas"
"One large painting offers a glimpse of Bergman's library, with hundreds of books cramming the shelves. Each book is created by a single brushstroke" at least that is the impression one gets. And this multitude of books and exquisite brushstrokes makes one dream about Bergman's Wild Strawberries, The Seventh Seal, Cries and Whispers, and Fanny and Alexander"
Ana Prvacki: Thirty Shades Of White at Praz Delavallade Paris
Thirty Shades Of White

28 November 2015 - 23 January 2016
Artists: Pierre Ardouvin, Robert Barry, Lisa Beck, Oliver Beer, Florian Bézu, Ulla von Brandenburg, Matthew Chambers, Martin Creed, Trisha Donnelly, Thomas Fougeirol, Fernanda Gomes, Julian Hoeber, Shila Khatami, Jiri Kovanda, Rodrigo Matheus, Fabien Mérelle, Julien Nédélec, Camila Oliveira Fairclough, Laurent Pernot, Ana Prvacki, Joe Reihsen, Ry Rocklen, Analia Saban, Yann Sérandour, Florian Schmidt, Sergio Verastegui, Marnie Weber, Lawrence Weiner, Zoe Williams, John Wood & Paul Harrison
PRAZ-DELAVALLADE
5, RUE DES HAUDRIETTES
F-75003 PARIS
More info here.

Rirkrit Tiravanija: A Restaurant Where Art is on the Menu in the New York Times
A Restaurant Where Art is on the Menu

By KAT HERRIMAN
In 1992, the art dealer Gavin Brown helped the artist Rirkrit Tiravanija transform 303 Gallery, then on Greene Street, into an operational kitchen for a part performance, part installation piece titled "Untitled (Free)." The seminal solo show, which found the artist serving up gratis curry and rice out of the converted gallery, represented a critical development in Tiravanija's practice. It also marked the beginning of his friendship with Brown, who at the time worked as an assistant at the gallery. Now in the collection of MoMA, "Untitled (Free)" — considered a masterwork of relational aesthetics — was the first of many interactive projects realized by the twosome. Their latest scheme: a gallery-meets-kitchen in Hancock, N.Y. Lovingly referred to as Unclebrother (the name is an inside joke), the hybrid restaurant revives the generous spirit of Tiravanija and Brown's inaugural partnership, but adds in a full-time, brick-and-mortar locale. "It's the first time he's had a commercial kitchen, so it's a departure in that sense," Brown says. "It's a natural progression, in a way. It's about entering into the same place but from a different direction."

Read more here.

Diana Thater in The Wall Street Journal
Film and Video Artist Diana Thater's First Retrospective at LACMA
Known for projects that explore nature and the cosmos, Diana Thater is the focus of Los Angeles County Museum of Art's largest exhibition focused on a female artist
By Carol Kino

IT'S A SMOGGY DAY in Los Angeles, and the artist Diana Thater is walking up the steep, winding path toward the Griffith Observatory, one of the city's most recognizable landmarks. Passing a gauntlet of tourists snapping photos with selfie sticks, Thater, 53, says she realizes the destination seems cliché. But as a self-avowed movie buff who creates film and video installations, Thater is also clearly reveling in the moment, pointing out the James Dean statue, the best place to get a shot of the Hollywood sign and the precise location on the observatory steps where Sal Mineo's character bit the dust in Rebel Without a Cause. "When I was a child I was obsessed with movies," says Thater. "I must have seen thousands." (Perhaps that's the inspiration for her severe bob, which is reminiscent of the hairstyle of silent film star Theda Bara.)

Click here for full text.

Diana Thater: gorillagorillagorilla at Aspen Art Museum
Diana Thater
gorillagorillagorilla

Nov 6, 2015-Feb 21, 2016

Aspen Art Museum
637 East Hyman Avenue
Aspen, Colorado 81611
More information here.
Uta Barth and Ann Veronica Janssens: Another Minimalism at The Fruitmarket Gallery Edinburgh