Jack Goldstein film screenings at Museum of the Moving Image
Jack Goldstein, Ballet Shoe, 1974-5

SCREENING AND LIVE EVENT: Downtown New York Film: The 1970's and 1980's launches today with Amos Poe's "Unmade Beds" and short films by Jack Goldstein, Cindy Sherman, and Ericka Beckman at 3PM. With Amos Poe in person.

Tickets are $12 for adults, $9 for senior citizens, and students and $6 for children.

Museum of the Moving Image is located at 36-01 35th Ave. in Astoria.
via movingimage.us

Diana Thater: Life is a Time-Based Medium
Production still, 2014

Diana Thater: Life is a Time-Based Medium
26 Mar – 16 May 2015, Hauser & Wirth London
Opening: Wednesday 25 March 6 – 8 pm
Hauser & Wirth
23 Savile Row
London W1S 2ET
Paul Winstanley at The Usher Gallery, London
(detail) at The Usher Gallery, Lincoln
Curated by Andrew Bracey
Through 19 April, 2015
This exhibition features details of artworks by 118 artists to create a huge collage of images. Reproduced close-ups allow viewers to focus on brush strokes, surfaces, and minutiae of paintings. The exhibition launched at H-Project Space, Bangkok in June, and toured to Transition Gallery in London and now for its final venue, The Usher Gallery, London.
Read more here
Uta Barth in Framing Desire
Modern Art Museum of Fort Worth, TX
Framing Desire: Photography and Video
Curated by Andrea Karnes
An exhibition showcasing over 40 recent acquisitions alongside iconic photographs and videos from the permanent collection of the Modern Art Museum of Fort Worth.

21 February - 23 August, 2015
The Museum of Modern Art of Fort Worth
3200 Darnell Street
Forth Worth, TX
76107

Kerry Tribe: The Loste Note
Kerry Tribe: The Loste Note
10 April - 31 May, 2015
Opening reception: Friday, April 10, 7 PM
356 S. Mission Road, Los Angeles, CA 90033
A Night of Performance with Kerry Tribe and friends at 356 Mission/Ooga Twooga
Kerry Tribe - "Critical Mass" Starring Emelie O'Hara and Nick Huff
Ben Vida - "Slipping Control" With Ben Vida on electronics and Mecca Vazie Andrews and Tara Jane O'Neil on vocals.
Plus Austin Meredith's "LOOP"
Sunday, March 22 at 7 PM
356 S. Mission Road / Los Angeles
New prints by Jessica Stockholder
Jessica Stockholder, Belly Cat, 2015
Polígrafa Obra Gràfica presents an edition with Jessica Stockholder
Set of 5 Lithographs, 2015
"Aspect Syllabary"
On Somerset paper
Size: 30 x 30 inches.
Edition: 40
Price: $1,500 (each)
Diana Thater opens March 13 at San Jose Museum of Art
Diana Thater, Artist's Rendering
Beta Space: Diana Thater

13 March - 13 September 2015
San Jose Museum of Art
Open Hours: Tuesday - Sunday 11am - 5pm
Closed 11am - 8pm on the third Thursday of each month
via sjmusart.org

Close Conversation: Charline von Heyl and Mark Godfrey at MoMA, NY
Charline von Heyl, Untitled (L.S. #2), 2007
Close Conversation: Charline von Heyl and Mark Godfrey
When: Tue., Mar. 24, 2015 at 3:00 pm
Where: Museum of Modern Art
11 W. 53rd St.
212-708-9400
Price: $15
Click here to buy tickets or for more information from the venue's website

Charline von Heyl and Mark Godfrey, Curator of International Art, Tate Modern, London
Join us for a series of one-on-one conversations between curators and painters in front of their paintings on view in the exhibition The Forever Now: Contemporary Painting in an Atemporal World. All conversations take place in The International Council of The Museum of Modern Art Exhibition Gallery, sixth floor, unless otherwise noted. Seating is extremely limited.
In conjunction with the exhibition The Forever Now: Contemporary Painting in an Atemporal World.
SUPERFLEX on the cover of QDA
The Armory Show in French daily, le QDA : L'Armory Show à New York attire toujours autant les collectionneur

March 6, 2015 - Issue No. 786
Jessica Stockholder: SITE 20 Years / 20 Shows
Jessica Stockholder, A Green Cut, 2013
Public Opening for SITE 20 Years / 20 Shows SPRING
Friday, Mar 13, 2015 at 5 - 7 pm
SITE 20 Years / 20 Shows, is a yearlong series of 20 projects including exhibitions and special events. The three-part series celebrates SITE's dynamic exhibition history by reconnecting with 20 artists who have showed at SITE over the years and inviting them to return to SITE to present new work, sometimes in collaboration with other artists and creative producers. The first installment Spring features the works of Gregory Crewdson, Deborah Grant, Roxy Paine, Mary Reid Kelley with Patrick Kelley, Rose B. Simpson, and Jessica Stockholder.
Charline von Heyl at Petzel Gallery, March 6 - May 2, 2015
Charline von Heyl, Untitled (3/95, I), 1995

Charline von Heyl
Düsseldorf: Paintings from the early 90s
March 6 - May 2, 2015
35 E 67th Street, New York, NY 10065

"Petzel Gallery is delighted to announce the inauguration of our new uptown location with an exhibition of early paintings by Charline von Heyl. The group of paintings assembled was previously exhibited in Cologne and Munich between 1991 and 1995, before the artist moved to New York. This will be the first showing of the work in the United States. The exhibition will be accompanied by a catalog with an interview between Isabelle Graw and the artist. " via Petzel
Artforum Critic's Picks: Fiona Connor
Fiona Connor

1301PE
6150 Wilshire Blvd.
January 24–March 14

"Perhaps it is Parker Ito's elastic installation in a warehouse behind Chateau Shatto that best reflects our current moment of fingered screens, zooming surfaces, and gleaming connectivity. Or maybe it is Liz Craft's web of yarn, skeletons, speech bubbles, and ceramic dicks at Jenny's that offers a timely response to our present social and aesthetic desires by way of desublimated Pop scenery. Another approach: Fiona Connor's exhibition, "Community Notice Boards," addresses the influence of Internet technologies on new modes of communication by calling on the social networks of sites experienced IRL only. By re-creating a cross section of bulletin boards sourced from Laundromats, libraries, cafes, and other public spaces throughout the city, Connor negotiates the "found object" as something closer to reproducible image rather than salvaged assemblage or purchased readymade. While these notice boards have been reconstructed in structural and material likeness of the "originals," their faded flyers and scrappy ephemera have been meticulously replicated on aluminum sheets rather than on paper: "Do you have a drug problem?"; "Clases de inglés gratis"; "I buy houses."
Connor's material sleight of hand is a critical act of preservation, one that attempts to underscore how proximity and place now contend with more immediate and immaterial means of communication. Documenting its own obsolescence, Community Notice Board (La Brea), 2015, displays little more than vandalized cork, lone pushpins, and traces of paper. If these boards evoke a sense of loss, the effect is not quite nostalgic—their cheerless condition hardly induces sentimental longing for the past. What does it mean to preserve media and materiality in the privileged space of art? Connor's practice seems to suggest there are larger implications for the work of art and its engagement with the social that exceed the immediate pre/post-Internet binary of our contemporary technological moment."
via Artforum
Tiravanija at YBCA reviewed on domusweb
Arin Rungjang, Golden Teardrop (installation view), 2013. Courtesy of the artist and the Office of Contemporary Art and Culture.

"Much of Tiravanija's work – whether it is an installation, a print, a documentary, or a curatorial project – fosters the direct and creative engagement of the viewer, user, or participant. He is particularly known for his projects where "things" function as props for visitors to create something of their own, and his interest in how cultural products can foster social production of one kind or another. As a curator, he looks for relationships between his own practice and that of other artists, yielding a rich map of his role as a hyper-connector." Read the full article here
Rirkrit Tiravanija hosts Local Source event at the Headlands Center for the Arts
Marin Headlands, CA - Fort Barry

Headlands Center for the Arts presents: Local Source: Rirkrit Tiravanija
Sunday, February 22, 6:30pm-9:00pm, Sausalito
MORE INFO: http://www.headlands.org/
Internationally acclaimed artist Rirkrit Tiravanija (AIR '15), known for his groundbreaking contributions in the realm of social practice, will orchestrate a shared meal with a mixed menu based on what is fresh and locally available. As we eat together, Tiravanija will talk about various processes and projects that blur the line between artist and viewer, and ask how an artwork might leave a lasting impression when its medium is something as finite as food. Setting the table in Headlands' historic Mess Hall-renovated by artist Ann Hamilton-this gathering invites visitors to engage with art in an exceptionally sociable way.
This event is co-presented with Yerba Buena Center for the Arts in conjunction with Tiravanija's recently curated exhibition The Way Things Go. On view at YBCA February 13-June 21, 2015.
DATE/TIME: Sunday, February 22
6:30pm-9:00pm
LOCATION: Headlands Center for the Arts
944 Fort Barry, Sausalito, CA, 94965
COST/REGISTRATION: $75 General | $50 Headlands Members.
http://www.headlands.org/event/local-source/
Jan Albers cOlOny cOlOr solo show at Von Der Heydt-Kunsthalle, Wuppertal
Jan Albers, diGGinGdeeP, 2014

Jan Albers
cOlOny cOlOr
Solo-show at Von Der Heydt-Kunsthalle, Wuppertal
March 22 - June 28, 2015, opening Sunday March 22, 3 pm
http://www.von-der-heydt-kunsthalle.de/
The exhibition will travel to Kunstpalais Erlangen.
An extensive catalogue is published, with texts by Markus Heinzelmann, Museum Morsbroich and Brigitte Kölle, Kunsthalle Hamburg
SUPERFLEX in Group Therapy: Mental distress in a digital age
Still from SUPERFLEX, "The Financial Crisis," 2009
The exhibition Group Therapy: Mental distress in a digital age will be showing at FACT (Foundation for Art and Creative Technology) between 5 March – 17 May 2015. Originating from FACT's extensive work within mental health and well-being, the exhibition explores the complex relationship between technology, society, and mental health.
Works featured include Superflex's video installation The Financial Crisis, which illustrates the 2008 market crash from a therapeutic perspective, and highlights the correlation between financial risk, anxiety and emotional distress.

FACT
88 Wood Street,
Liverpool,
L1 4DQ
Pae White: Magnificent Obsessions
Pae White stands amongst her collection of Vera Newman scarves at the Magnificent Obsessions show. Photo: Peter Macdiarmid/Getty Images Europe
'Magnificent Obsessions: The Artist as Collector' is the first major exhibition in the UK to present the personal collections of post-war and contemporary artists. Ranging from mass-produced memorabilia and popular collectibles to one-of-a-kind curiosities, rare artifacts and specimens, these collections provide insight into the inspirations, influences, motives and obsessions of artists.

Magnificent Obsessions: The Artist as Collector
Barbican Art Gallery, London
12 February 2015 - 25 May 2015.
Philippe Parreno in Mousse #47
PHILIPPE PARRENO AND PAUL B. PRECIADO
Rethinking the Ritual of the Exhibition
by Hans Ulrich Obrist
Philippe Parreno and Paul B. Preciado, a philosopher, writer and activist at the helm of the Independent Studies Program of the MACBA, raise ground-breaking questions ranging from the coercion of the public by the institution to processes of disidentification from dominant sexual identities, in a conversation conducted by Hans Ulrich Obrist.

http://moussemagazine.it/issue.mm

The Importance of Being: A Panorama on Belgian Contemporary Art
Travelling exhibition: Cuba, Argentina, and Brazil
13 February until 26 April 2015
Museo Nacional de Bellas Artes, La Habana, Cuba
'The Importance of Being...' is an exhibition on contemporary art taking place in several locations in Latin America throughout 2015 and 2016. The project is curated by Sara Alonso Gómez. Bruno Devos is the project director.
Rather than focusing on strictly geographical features or criteria, the exhibition raises questions concerning the polymorphy of the multilingual, transcultural mindset associated with a certain - elusive – Belgian identity.
Participating artists include Marcel Broodthaers, Chantal Akerman, and Ann Veronica Janssens.

Read the full article here

Allegory of Cave Painting at Middelheim Museum, Antwerp
Allegory of Cave Painting - Group Exhibition
25 October 2014- 29 March 2015
Middelheim Museum and Extra City Kunsthal jointly present: a dual exhibition which assembles modern and contemporary painters, who provide a polyphonic answer to the prehistoric Bradshaw-paintings in Australia.
These prehistoric North-Western Australian rock paintings are continuously rejuvenated by their "living" pigments.
The central aspect of the exhibition in the Middelheim Museum is the dialectic of intimacy and knowledge of our relation with art objects.
The show assembles artworks of, amongst others, Ciprian Mureşan, Michèle Matyn, Alon Levin, Navid Nuur and Hans van Houwelingen, that dialogue with artists from the museum's collection, like Dan Graham, Ann Veronica Janssens, and Medardo Rosso.
Rirkrit Tiravanija – "The Way Things Go" @ UC Berkeley
Rirkrit Tiravanija Artist Lecture
The UC Berkeley Department of Art Practice Wiesenfeld Visiting Artist Lecture Series with co-sponsors The Arts Research Center at UC Berkeley, The Berkeley Center for New Media, The David Brower Center, and The Yerba Buena Center for the Arts present:
Monday, February 23rd, 2015, 7:30 – 9:00 pm
*Note location: The David Brower Center, 2150 Allston Way, Berkeley, CA 94704
Free, accessible, and open to the public
Seating will be on a first-come, first-served basis.
Rosanna Albertini reviews Community Notice Board
Fiona Connor, Community Notice Board, 2015, Exhibition Poster
"Fiona Connor brought to Los Angeles from New Zealand the heartfelt attachment to a sense of equality, a better word for democracy. Her art is a tribute to gestures and habits of social passing on that are not destined to last, or to be considered worthy of attention. Those moments and objects that slip through our fingers like water, like time. Small memorials of the living that nobody loves, just useful, they don't count. "There is an ethics -she tells me- in renewing and reflecting people's notice of common needs, to pay a tribute to ephemeral moments." As most of life is."

Read the full article here
COME AS YOU ARE : Feb. 11 - April 15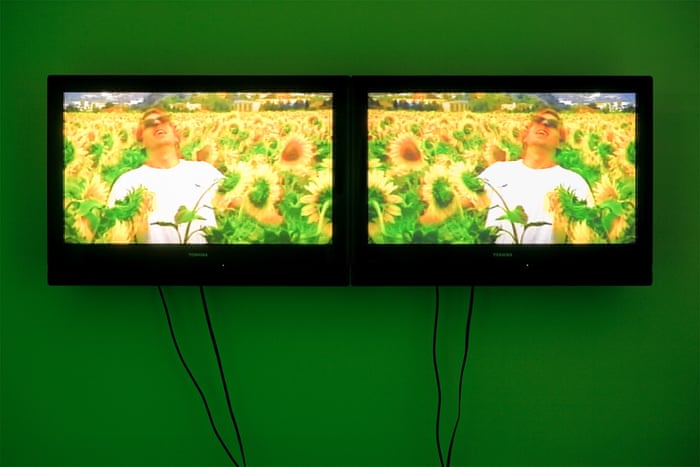 Diana Thater, Ginger Kittens, 1994

February 11 - April 15 at Montclair Art Museum
COME AS YOU ARE: Art of the Nineties
Featuring works by Diana Thater, Rirkrit Tiravanija, and Jorge Pardo

This exhibition marks the first major American museum survey to examine the art of this pivotal decade in its historical context. Showcasing approximately 60 works by 45 artists, it includes installations, paintings, sculptures, drawings, prints, photography, video, and digital art. Come as You Are offers an overview of art made in the United States between 1989 and 2001—from the fall of the Berlin Wall to 9/11—and is organized around three principal themes: the "identity politics" debates, the digital revolution, and globalization. Its title refers to the 1992 song by Nirvana (the quintessential '90s band, led by the quintessential '90s icon, Kurt Cobain); moreover, it speaks to the issues of identity that were complicated by the effects of digital technologies and global migration. The artists in the exhibition came of age during and reflect the increasingly heterogeneous nature of the art world during this time, as artists of color, women artists, and LGBTQ artists attained increased prominence.

The exhibition is curated by Alexandra Schwartz, MAM curator of contemporary art, with Kimberly Siino, curatorial assistant. Following its premiere at MAM, the show will embark on a national tour.
Maccarone Gallery Hosts Preview Of SculptureCenter Benefit Exhibition
SculptureCenter is hosting its benefit exhibition from February 3rd through 5th at New York's Maccarone gallery at 98 Morton Street.
Featured artists include Sanford Biggers, Louise Bourgeois, Petah Coyne, Dan Graham, Camille Henrot, Louise Lawler, Margaret Lee, Nate Lowman, Adam McEwen, Haley Mellin, Claes Oldenburg, Coosje Van Bruggen, Martin Puryear, Blake Rayne, Ugo Rondinone, Sterling Ruby, Richard Serra, and more.
February 3 - 5, 2015
Maccarone
98 Morton Street
New York, NY 10014
tel 212 431 4977
fax 347 394 0043

Gallery Hours:
Tuesday - Saturday, 10:00 AM - 6:00PM
Ann Veronica Janssens and Michel François at La Verrière
Philaetchouri, Installation view

"A tarmac floor supports a monumental form in crumpled, corrugated aluminium. Waterlogged 'pot holes' reflect the sky above: La Verrière is the setting for a new installation devised and created in situ by artists Ann Veronica Janssens and Michel François, working together for the first time since 1999 (when they represented their home country of Belgium at the 48th Venice Biennale) at the invitation of curator Guillaume Désanges. The show is the latest in the gallery's current season, Gesture, and thought." via Hermés Fondation
Philaetchouri
6 February 2015 - 30 April

La Verrière, Brussels
50 boulevard de Waterloo, 1000 - Brussels, Belgium
Monday - Saturday, 11 am - 6 pm
Uta Barth in NYT Crossword Puzzle
Uta Barth, Untitled #1 (1979-1982 / 2010)

Uta Barth in the NYT Crossword Puzzle
The clue for No. 42, across in the New York Times' Jan. 24 crossword puzzle was this: German-born photographer Barth. The answer, of course, is UTA. Uta Barth is a professor of art emeritus atUCR who is known internationally for her abstract photography. Last year, she won a $500,000 MacArthur Fellowship, one of the most prestigious awards in the country. She was born in Berlin, Germany.
via UCR Today

1301PE at ALAC, Jan. 29 - Feb. 1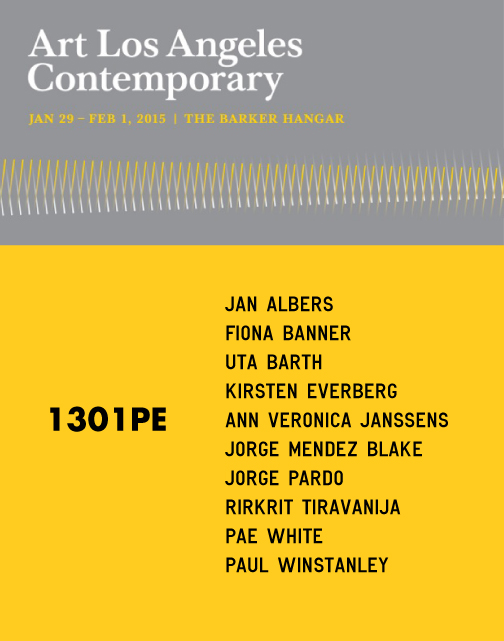 1301PE is open during ALAC.

Fiona Connor Lecture at Otis, 2/17
Interview with Diana Thater on Blouin Artinfo
Still from Diana Thater's "Science, Fiction," 2014.
(Courtesy David Zwirner, New York/London)
Thea Ballard and Diana Thater discuss Thater's current exhibition "Science, Fiction" at David Zwirner, NYC. Read the article here

Via Blouin Artinfo

Charline von Heyl and Blake Rayne at Gavin Brown's Enterprise
Call and Response
January 24 - February 28, 2015
Opening January 24
6-8PM
Gavin Brown's Enterprise
620 Greenwich Street
New York, New York 10014
AA Bronson Upcoming Solo Exhibition
From the series "White Flag"

WHITE FLAG
JANUARY 23 – FEBRUARY 28, 2015
ESTHER SCHIPPER GMBH
SCHÖNEBERGER UFER 65
D-10785 BERLIN
Angela Bulloch in RAM, Nova Scotia
Pursuits Inc in partnership with the Art Gallery of Nova Scotia present:
RAM: Rethinking Art and Machine, Curated by Marla Wasser
Exhibition features: Angela Bulloch, Jim Campbell, Manfred Mohr, Alan Rath, Daniel Rozin

January 16 - March 22, 2015
Watch the video preview here
via Pursuits Inc.
Jorge Pardo lecture at Art Center 1/20/15
Pardo in front of his installation at Musee des Saint Augustins, Toulouse. Photo via augustins.org
Jorge Pardo will be speaking at Art Center College of Design on January 20, 2015, as part of the Spring 2015 Graduate Art Seminar series.
Lectures begin at 7:30PM in the Los Angeles Times Media Center. All lectures are free and open to the general public.
For updates and additional information, visit www.artcentermfa.net/news-events/

Art Center College of Design | Hillside Campus
Los Angeles Times Media Center
1700 Lida Street, Pasadena, CA 91103
Jessica Stockholder interviewed in Studio International
Jessica Stockholder in her studio, Image via mag.uchicago.edu

Jessica Stockholder: 'Art changes, taking account of the present moment'
Jessica Stockholder talks about her work, which combines painting, sculpture, installation and language in a unique creation that calls for a close personal encounter with the viewer.
Read the full article here

Jessica Stockholder "Palpable Glyphic Rapture"
For Palpable Glyphic Rapture, Jessica Stockholder is presenting a monumental, site-specific work created in situ at 18 rue du Bourg-Tibourg as a response to its glass roof. She will also present a set of "studio" works, a set of seven smaller sculptures.
January 22 - March 14, 2015 - Galerie Nathalie Obadia

18 rue du Bourg-Tibourg
75004 - Paris - France
Diana Thater: science, Fiction opens tomorrow, 1/8, @ David Zwirner NYC
In her new installation, which like the exhibition is titled Science, Fiction, Thater focuses on the dung beetle and the intricate navigation system it deploys in disposing balls of animal excrement, its main source of nutrition. Recent studies have revealed that the species uses the Milky Way to orientate itself at night, currently the only insect known to do so. In an experiment in which the beetles were placed on an outdoor table, they were only able to navigate in their usual straight line with an open view of the nocturnal sky—when their overhead vision was blocked, their movements became erratic and slowed drastically. The same experiment was repeated inside a planetarium, alternately turning the Milky Way on and off, and the animals' path was demonstratively straighter and faster in light of the galaxy. (Read more here)
David Zwirner
533 West 19th Street
New York, NY 10011

Opening reception: Thursday, January 8, 6 – 8 PM
Press preview with the artist: 10 AM
PHILIPPE PARRENO quasi-objects ends January 15, 2015
Philippe Parreno's seventh exhibition at Esther Schipper is timed to coincide with the artist's installation at the Schinkel Pavillion (November 15–December 21). The gallery show brings together various objects that have appeared as part of Parreno's work since 1992. Showing that context is as important to our understanding of an object as its physical appearance, the juxtaposed "quasi-objects" take on new meanings and associations.
Philippe Parreno quasi-objects
YBCA presents A Special Curatorial Project with Rirkrit Tiravanija "The Way Things Go"
For this exhibition, Rirkrit Tiravanija invited artists from Asia and Europe, as well as from the San Francisco Bay Area, to contribute works related to the circulation and anthropology of seeds, plants, food, recipes, and related materials of kitchen culture that have circulated across regions and time. Featuring 12 artists projects and a wide range of work, from mixed-media installations to film, video, archive-oriented art, The Way Things Go explores how personal effects, gourds, seeds, a recipe, and sugar all yield stories that go beyond each artist's personal intention, and creates a larger story of interwoven meanings embedded in cultural geography and spatial history.

In Tiravanija's artworks, "things" often function as props for visitors to create something of their own, creating cultural products, which in turn, foster social production, and demonstrate how origins, journeys, and the stories that surround them are catalysts for bringing people into a more intimate understanding of themselves and the interdependence of cultures. In the exhibition, featured artists share personal and focused stories that open up to larger scenes of human interaction and engagement by redrawing boundaries of trade and labor, colonization, political affiliation, and war—all of which have a profound impact on vernacular, local, and indigenous experiences. Participating artists are: Maria Thereza Alves, Lonnie van Brummelen and Siebren de Haan, Peter Fischli and David Weiss, Camille Henrot, Luc Moullett, Museum of Gourd, the National Bitter Melon Council, Pratchaya Phinthong, Arin Rungjang, Thasnai Sethaseree, Shimabuku, and SUPERFLEX in collaboration with the Propeller Group. (via ybca.org)

Exhibition Dates: February 13, 2015 to May 24, 2015
Yerba Buena Center for the Arts
701 Mission Street
San Francisco, CA 94103
Tel: 415-978-2700
Tix: 415-978-2787
1301PE in Content.02