Uta Barth in NYT Crossword Puzzle
Uta Barth, Photo: Business Insider
Uta Barth in the NYT Crossword Puzzle
The clue for No. 42, across in the New York Times' Jan. 24 crossword puzzle was this: German-born photographer Barth. The answer, of course, is UTA. Uta Barth is a professor of art emeritus atUCR who is known internationally for her abstract photography. Last year, she won a $500,000 MacArthur Fellowship, one of the most prestigious awards in the country. She was born in Berlin, Germany.
via UCR Today

1301PE at ALAC, Jan. 29 - Feb. 1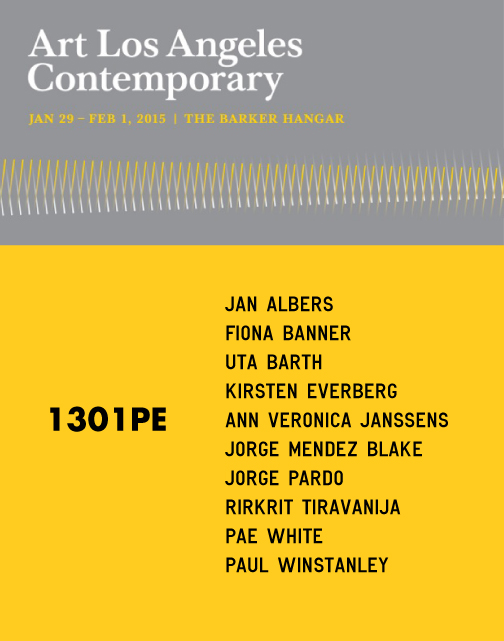 1301PE is open during ALAC.

Fiona Connor Lecture at Otis, 2/17
Interview with Diana Thater on Blouin Artinfo
Still from Diana Thater's "Science, Fiction," 2014.
(Courtesy David Zwirner, New York/London)
Thea Ballard and Diana Thater discuss Thater's current exhibition "Science, Fiction" at David Zwirner, NYC. Read the article here

Via Blouin Artinfo

Charline von Heyl and Blake Rayne at Gavin Brown's Enterprise
Call and Response
January 24 - February 28, 2015
Opening January 24
6-8PM
Gavin Brown's Enterprise
620 Greenwich Street
New York, New York 10014
AA Bronson Upcoming Solo Exhibition
From the series "White Flag"

WHITE FLAG
JANUARY 23 – FEBRUARY 28, 2015
ESTHER SCHIPPER GMBH
SCHÖNEBERGER UFER 65
D-10785 BERLIN
Angela Bulloch in RAM, Nova Scotia
Jim Campbell, Motion and Rest #5, 2002

Pursuits Inc in partnership with the Art Gallery of Nova Scotia present:
RAM: Rethinking Art and Machine, Curated by Marla Wasser
Exhibition features: Angela Bulloch, Jim Campbell, Manfred Mohr, Alan Rath, Daniel Rozin

January 16 - March 22, 2015
Watch the video preview here
via Pursuits Inc.
Jorge Pardo lecture at Art Center 1/20/15
Pardo in front of his installation at Musee des Saint Augustins, Toulouse. Photo via augustins.org
Jorge Pardo will be speaking at Art Center College of Design on January 20, 2015, as part of the Spring 2015 Graduate Art Seminar series.
Lectures begin at 7:30PM in the Los Angeles Times Media Center. All lectures are free and open to the general public.
For updates and additional information, visit www.artcentermfa.net/news-events/

Art Center College of Design | Hillside Campus
Los Angeles Times Media Center
1700 Lida Street, Pasadena, CA 91103
Jessica Stockholder interviewed in Studio International
Jessica Stockholder in her studio, Image via mag.uchicago.edu

Jessica Stockholder: 'Art changes, taking account of the present moment'
Jessica Stockholder talks about her work, which combines painting, sculpture, installation and language in a unique creation that calls for a close personal encounter with the viewer.
Read the full article here

Jessica Stockholder "Palpable Glyphic Rapture"
For Palpable Glyphic Rapture, Jessica Stockholder is presenting a monumental, site-specific work created in situ at 18 rue du Bourg-Tibourg as a response to its glass roof. She will also present a set of "studio" works, a set of seven smaller sculptures.
January 22 - March 14, 2015 - Galerie Nathalie Obadia

18 rue du Bourg-Tibourg
75004 - Paris - France
Diana Thater: science, Fiction opens tomorrow, 1/8, @ David Zwirner NYC
In her new installation, which like the exhibition is titled Science, Fiction, Thater focuses on the dung beetle and the intricate navigation system it deploys in disposing balls of animal excrement, its main source of nutrition. Recent studies have revealed that the species uses the Milky Way to orientate itself at night, currently the only insect known to do so. In an experiment in which the beetles were placed on an outdoor table, they were only able to navigate in their usual straight line with an open view of the nocturnal sky—when their overhead vision was blocked, their movements became erratic and slowed drastically. The same experiment was repeated inside a planetarium, alternately turning the Milky Way on and off, and the animals' path was demonstratively straighter and faster in light of the galaxy. (Read more here)
David Zwirner
533 West 19th Street
New York, NY 10011

Opening reception: Thursday, January 8, 6 – 8 PM
Press preview with the artist: 10 AM
PHILIPPE PARRENO quasi-objects ends January 15, 2015
Philippe Parreno's seventh exhibition at Esther Schipper is timed to coincide with the artist's installation at the Schinkel Pavillion (November 15–December 21). The gallery show brings together various objects that have appeared as part of Parreno's work since 1992. Showing that context is as important to our understanding of an object as its physical appearance, the juxtaposed "quasi-objects" take on new meanings and associations.
Philippe Parreno quasi-objects
YBCA presents A Special Curatorial Project with Rirkrit Tiravanija "The Way Things Go"
For this exhibition, Rirkrit Tiravanija invited artists from Asia and Europe, as well as from the San Francisco Bay Area, to contribute works related to the circulation and anthropology of seeds, plants, food, recipes, and related materials of kitchen culture that have circulated across regions and time. Featuring 12 artists projects and a wide range of work, from mixed-media installations to film, video, archive-oriented art, The Way Things Go explores how personal effects, gourds, seeds, a recipe, and sugar all yield stories that go beyond each artist's personal intention, and creates a larger story of interwoven meanings embedded in cultural geography and spatial history.

In Tiravanija's artworks, "things" often function as props for visitors to create something of their own, creating cultural products, which in turn, foster social production, and demonstrate how origins, journeys, and the stories that surround them are catalysts for bringing people into a more intimate understanding of themselves and the interdependence of cultures. In the exhibition, featured artists share personal and focused stories that open up to larger scenes of human interaction and engagement by redrawing boundaries of trade and labor, colonization, political affiliation, and war—all of which have a profound impact on vernacular, local, and indigenous experiences. Participating artists are: Maria Thereza Alves, Lonnie van Brummelen and Siebren de Haan, Peter Fischli and David Weiss, Camille Henrot, Luc Moullett, Museum of Gourd, the National Bitter Melon Council, Pratchaya Phinthong, Arin Rungjang, Thasnai Sethaseree, Shimabuku, and SUPERFLEX in collaboration with the Propeller Group. (via ybca.org)

Exhibition Dates: February 13, 2015 to May 24, 2015
Yerba Buena Center for the Arts
701 Mission Street
San Francisco, CA 94103
Tel: 415-978-2700
Tix: 415-978-2787
1301PE in Content.02
1301PE Owner Brian Butler and Director Isha Welsh stand in front of SUPERFLEX "I Copy Therefore I Am," 2009, installed for the exhibition Re/Production (July-August 2014), 1301PE

In this article, Brian Butler and Isha Welsh discuss the West Coast art scene, and the growing globalization of the international scene that is making room for New Zealand contemporary artists.
View Printed Catalogue (e-book): http://issuu.com/artandobject/docs/content_internet_edited/0

Download .pdf catalogue: http://www.artandobject.co.nz/AuctionResources/338/CONTENT_INTERNET_edited.pdf
SUPERFLEX awarded Denmark's largest art prize